If you are holding a store manager
or franchisee conference, here is the perfect workshop
to help improve your customer service
and increase your sales.

Coaching & KPIs Workshop
Free Consultation Available.
Just click the button to schedule a 15 – 30 minute discussion about your needs.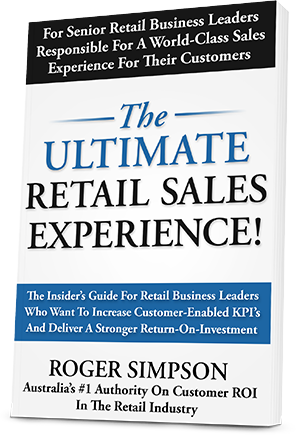 Why your store managers need to be great coaches.
With the incredible competition found in today's retail industry, it's critical that your store teams provide fantastic service to your customers.
When customers don't get great service, they spend less time in your store and buy less, not to mention they rarely come back. Are your store managers doing their best to engage, motivate, and coach their teams?
This workshop is an opportunity for store managers to learn firsthand from Roger Simpson, Australia's #1 authority on customer ROI in the retail industry. With more than 30+ years in retail, Roger is highly sought after by business owners and CEOs for his insights on the current problems facing retail and his clear strategies for fixing the issues.
Most managers have little or no training in how to coach their teams. The service steps you have in place are misunderstood and delivered inconsistently; KPIs are an afterthought when staff are dealing with customers; and sales are just another part of the job that team members hate.
If you're ready to maximise performance and profitability for your business, the best way to begin is by having great teams that give great service. This workshop with Roger and his team can be customised for any size group and the results are transferred easily and quickly back to your business. It will show your store managers how to be effective coaches on the job and improve KPIs for both the business and individual team members.
To find out how the workshop could work for your retail business, simply click on the button below to schedule a free, 15- to 30-minute consultation with Roger on the phone. During this no-obligation consultation he will discuss your current retail challenges and how the workshop would be tailored to help overcome these challenges.
Roger was referred to us based upon an excellent presentation he had done with Adairs in 2016. We used Roger for our store managers conference in October 2016 with over 160 attendees and the feedback was outstanding. He spent time in our business prior to the presentation to find out our needs and tailor the content accordingly. His ability to engage with our large group and make the presentation fun and interactive was brilliant. Our team left with a number of key takeaways they could immediately implement back in store.
We were so impressed with Roger's first presentation we engaged him again for a full day workshop with our Regional managers in February as well as our 2017 store managers conference in October. Once again the feedback on his presentations has been excellent and I would highly recommend Roger to any retailer who wants a dynamic presenter with very valuable key messages"
Louise Ginting, National Sales Manager, Global Retail Brands (House & Robin's Kitchens)

We used Roger to present to our Owners and Retail Managers at our national conference back in 2014 and the feedback was tremendous. Roger's presentation was a big hit for our members and provided valuable information they could use immediately back in their stores. We all loved Roger's engaging style and his ability to connect with our group. When we were planning for our next national conference we had no hesitation in engaging Roger for another session that we know will be excellent."
Nicole Hooley, Merchandise and Retail Operations Manager, Instigo

We have used Roger on two occasions recently, firstly to present to our regional managers and then to our entire group of store managers. Both sessions were exactly what we were after and Roger's style of presentation is highly interactive as well as having a fun element throughout.
Both groups reacted extremely positively to the information Roger covered that was tightly tailored to our way of doing things. I would highly recommend Roger if you want a dynamic and motivational presenter to engage your team."
Jane Delianis, Learning and Development Manager, Adairs