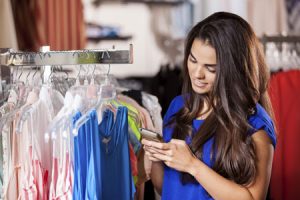 We've all seen it and experienced it, customers studying their phones while in store. Searching for a better price perhaps, reading product reviews or paying by phone. This is new retail, well in fact not that new, but this is something retailers will see much more often in today's technological world. Research shows that the number of customers who access their phone while in store has grown in just one year by 15%, with now 71% using their phone whilst in store (according to Mobile Marketer).
Now I know that we can get frustrated with customers who spend time on their phones in store, they make it challenging to approach and even talk to if they are on their devices, however this is a growing trend that retailers have to get use to and in fact use it to their advantage.
We also have to get used to the fact that some customers don't want to interact with a team member at all, they are happy to browse and use their phone to do the research for them. Some customers, whether we have spoken to them or not, may even walk out without buying if they find a better price or range at another store. The power of google gives customers a lot more power these days.
Technology is changing retail in many ways and retailers have to get on board otherwise they are going to be left behind. Nike has adopted mobile technology in a big way in the US, allowing shoppers to reserve shoe sizes. While shoppers finish browsing, their selected shoes are placed in a designated locker that they unlock with their mobile phone of course! Items can then be scanned to check out and are instantly paid for. This benefits the customer in a number of ways, certainly removing waiting in line to pay.
For Nike, mobile technology delivers advantages by blending the best of both worlds, streamlined service and extra information at the tap of a screen along with the ability of touching and trying the product on, as well as the immediacy of purchase – sometimes even two hours is too long to wait if you purchase online!!
Amazon has trialled tap and go technology which is all done by phone in their Amazon Go stores and other retailers are following suit. Woolies is trialling similar technology in Sydney and they won't be the only retailer here in Australia that heads down this path.
However there is a real danger for retailers to not chase technology for the sake of it just to show they are being innovative. Getting the right blend of technology can enhance customer experiences, getting it wrong will do little to the bottom line and may even detract from the in store experience. By eliminating or severely reducing the need for human interaction, bricks and mortar retailers run the risk of losing their huge competitive advantage over online retailers and that's the intimacy and authenticity of the human experience.
Exciting times are ahead for retailers and getting the blend of technology and the human touch is critical to ensure your valuable customers enjoy a great experience each and every time.
---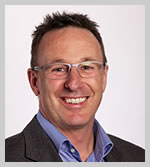 Roger Simpson – CEO, The Retail Solution and Author of "The Ultimate Retail Sales Experience" With over 35 years' industry experience, Roger Simpson is recognized as Australia's #1 Authority on customer ROI in the retail industry and as a global expert on staff coaching, customer service, and selling skills.