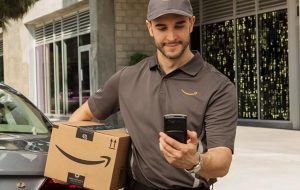 Love them or hate them, Amazon has certainly been making an impact and is now one of the biggest companies on the planet. Their impact here in Australia has been slowly gaining traction as they figure out how to maximise delivery speeds in this vast country. With their massive range of products and the recent closing of a number of physical stores as well as the stay at home message being adhered to, Amazon has enjoyed a significant advantage. Time will tell whether customers who usually buy in store, continue with the online journey or go back to the way they shopped pre-Covid in physical stores.
There are a number of areas where Amazon really stand out, I wanted to share two that physical retailers could learn and better adopt into their way of doing things.
1) Focus on delivering incredible customer service. Amazon's ordering and delivery process is quite seamless (most of the time). Their aim is to make it so easy for customers to purchase, so they will come back again and again.
How many physical retailers make it easy to buy from them? With less staff in store these days, it's sometimes hard to find a staff member when you want one. There's (usually) no issues from customers quickly jumping onto Amazon's website, so physical retailers have to make the instore process seamless as well as creating memorable experiences.
2) Amazon are great at the cross–sell and upsell. Bezos has stated that an emphasis on this has added 35% to Amazon's bottom line. They use lines like "customers who bought this also bought this", to entice customers to increase their purchase.
Most physical retailers do this poorly, so there is a huge opportunity to improve in this area and add valuable dollars to the bottom line. Too many retail staff are just order takers, they simply ask the customer what they came in for and then get it for them. And may add in "anything else today?" Which usually ends up in a no.
Staff need to engage customers with questions and build a solution for the customer, based on their answers. This is so much easier to do face to face, as you can physically show additional products that will enhance the original purchase.
So come on physical retailers, get focussed on these two areas that we know we can do so much better than online.
---
Roger Simpson – CEO, The Retail Solution and Author of "The Ultimate Retail Sales Experience" With over 35 years' industry experience, Roger Simpson is recognized as Australia's #1 Authority on customer ROI in the retail industry and as a global expert on staff coaching, customer service, and selling skills.