This week I'd like to feature another great article from Brent Newey and his team at Retail Help. Attracting customers to come into your store has a lot to do with how attractive and how well your windows stand out. Brent has identified a number of key principles that are well worth reading and outing into action.
Enjoy.
---
The Importance of Store Window Displays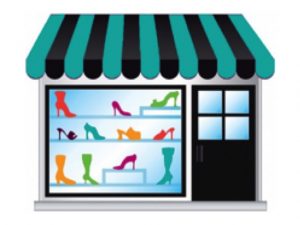 A window display is the most important marketing tool that a business can utilise, in order to create a positive first impression to potential customers. The aim is to create an attractive window display to entice customers into the store, rather than have them walk past.
Using window displays effectively can have many benefits for your retail business. As every business is different, there is no "right" way to create a visually appealing store window display. However, there are many interesting ideas and simple techniques you can use to produce a display that works best for your individual business.
Take time to plan the display. Consider what message you want your window display to convey. As with any type of advertising, you need to develop a budget and determine what your theme will be (e.g. a summer sale; new arrivals; seasonal event etc…) Draw or sketch your ideas and plan on paper or computer, so that you have a clear visual of what it will look like. Ensure you have all the necessary merchandise, props and materials on hand and everything in the window location is clean and ready to go. Build the display after hours so you won't be distracted. Otherwise, choose a slow time of day so you don't disrupt the daily running of your business.
Choosing a theme for your window display allows you to tell a story and therefore attract interested customers. You can also tell a story by visually referencing well known stories, characters or themes that people are generally familiar with (e.g. Fairy tales, TV characters etc). Stories have the ability to touch people emotionally. Your aim is to "tap into" these emotions by using your imagination to create an attention-grabbing, visually appealing window display. Group your stock into colour schemes or categorise it into themes (e.g. male-oriented products for Father's Day, fashion accessories for the spring races). See what your competitors are doing, draw inspiration from other businesses around you and use social media to gain ideas. Once you have chosen your theme, tailor your display to fit the theme.
When constructing a window display, your main goal is to keep it simple. The issue many people face, is that they get carried away by putting too much product into the display, or by using too many props. Rather than attracting customers, this has the potential to turn customers away, as the display is too busy and cluttered. Your aim is to help customers quickly recognise what your message, theme or story is and why certain products are grouped together. In addition, consider making your backdrop a neutral colour so that the focus is on what's in the window and not behind it.
Take into consideration how people will engage with your window display and showcase the main part of the window display at average eye level (as viewed from the outside). As a general rule it's recommended to keep things at eye level, however don't place everything on one level. Use different sized platforms, boxes, stands or anything else you want to put products on, to help vary the height of your displays. You can also suspend items from the ceiling or place items on the floor, however make sure the customers' main attention is drawn to the focal point which should be at eye level. Once you have finished, step outside your store and really give your window a good look. This will help you determine whether what you have designed and created works or if adjustments need to be made.

In order to create a window display that's aesthetically pleasing, you must balance all the different elements that you will be using. As you will be working with items of different sizes, shapes, colours and textures, you will need to co-ordinate them in such a way that the whole display looks attractive. You want to avoid placing large items on one side with smaller items on the other, as this will create an unbalanced window display. Ideally you should start your display by placing the larger items where you want them and then fill in the rest of the display with all the other chosen products. Place larger, darker items near the bottom, with items that are lighter and more colourful at the top. Work from light to dark or warm to cool when displaying multiple products. Create displays in a triangle shape for visual impact and cluster products in groups of three or five as odd numbers provide both balance and grab the eye's attention. Balanced displays are more likely to invoke positive feeling in your customers.
Lighting is a necessary component of your window display. Effective lighting ensures that your window is bright and easy to see. It also draws the customers' eyes to a focal point in the window or product on display. How you light your display is important and you need to consider whether you focus on highlighting certain areas within the display or individual products. Avoid hanging lights directly above products as it will cast unflattering shadows and look unattractive. Instead, you should use spotlights, up-lights or coloured lights to create the right mood for the display. Consider having the lights to the sides and the front of the display for a greater impact. Your window is the first point of contact for customers, therefore it's crucial to have your shopfront display and store signage lights on, especially at night. This will draw attention to your store, even when you are closed. Make sure your open hours sign is also well positioned, lit and visible.
In order to get noticed, don't make your window display unappealing and boring. It's important to stand out from the crowd and attract attention for the right reasons. Avoid the predictable and create something that is whimsical, unexpected, unique and memorable. Think outside the box and be bold with your use of colours, shapes and props. Seek out materials and accessories from art stores and discount stores or create and make your own decorations. Remember to use your best judgement and make sure your creation is appropriate for your brand and store. Customers like to be surprised and your aim is to create a window display that actually stops them from what they are doing (using their phones, talking or texting) in order to admire your display. Hopefully they will be so amazed by what they see that they are tempted to come into your store; tell their friends; take photos or even share on social media.
You should change your store window display as often as possible (at least once per month). Whilst it's difficult to dismantle something that you have invested so much time and effort into, it's important to keep things fresh for customers passing-by. No window display stays the same forever and even the best ones will get tiresome and boring after a while. The novelty wears off for regular customers after some time and the display stops being of any interest to them. It doesn't have to be a costly, time-consuming exercise. With careful planning and re-using, rotating and recycling materials, your window display can look and feel different each time. Rather than think about the whole process as a chore that needs to be done, consider it as your marketing objective for the month. After all, think about the impact that your window display can have on your store traffic. The more often you change your display, the more people will look and notice your store.
Advantages of Store Window Displays
Using window displays effectively can have many benefits for your retail business:
Instant information – Potential customers can get a good idea of what your store is about.
Value for money – A good display can cost money but it can pay back in increased sales. However, even a relatively inexpensive display can attract the eye of potential new customers if it is effective.
Attracting customers – Eye-catching and appealing window displays can be the difference between potential customers coming into your store to view more or walking past.
Building a positive image – An effective window display can provide a positive impression of your business and products.
Increase in brand awareness – A unique and individual display can help your store stand out from the rest of the retail businesses in the area.
Promotion of sales and special offers – A window display is an effective way to highlight promotional offers.
Key Points to Remember
Design and plan before you start on the window display

Be big, bold and visible from a distance

Keep it simple, as less is more and makes it easier for the customer to interpret

Ensure you have movement and light in order to draw the eye

Change displays frequently to maintain interest

Have a strong theme

Incorporate layers into your design

Use props to add context and position products at eye level

Get the balance of the display right

Consider the size of objects and start with the largest object first

Think about colour choices and how they will impact the mood

Establish a focal point

Provide adequate and thoughtful lighting

Don't forget signage and the impact it can create

Take photos of the display to keep as a record and to share through your online channels

Ensure you have adequate stock levels of the products in your window to fulfil demand

Keep window display tidy at all times, ensuring glass is clean and streak-free
Attracting customers into your retail store can be achieved by simply having a great window display. If done properly and consistently, it can also effectively create brand awareness. Whilst it can be difficult at first, the more you practice, the better your skills will become over time. In many cases it will come down to trial and error, but with a little thought, planning, creativity, time and confidence, you can create eye-catching, attractive displays in order to create a positive first impression to potential customers.
Brent Newey has worked across many retail channel's including: Department Stores, Specialty, Franchising & Pharmacy. Brent is available to consult on this topic or any other retail topics and is a stakeholder in all three retail businesses below.

---
Roger Simpson – CEO, The Retail Solution and Author of "The Ultimate Retail Sales Experience" With over 35 years' industry experience, Roger Simpson is recognized as Australia's #1 Authority on customer ROI in the retail industry and as a global expert on staff coaching, customer service, and selling skills.