In today's very competitive retail environment, only those retailers that can differentiate from their many competitors will survive and thrive. With competition at and all time high and many shoppers now spending time online, physical retailers have to dramatically improve in a number of key areas or be left behind.
Here are a number of ways to do just that:
Product range. If a retailer can offer unique products that no one else can, that will certainly provide an edge.

Product quality. Once again offering a quality product is what some customers are looking for. The trade-off here is going for great quality and higher prices or lower quality and lower prices.

Product returns. With the need to provide the customers with sales online and in store, the need to provide seamless and economical returns is critical.

Product availability. Giving the customer the ability to check stock levels at home or in store is a big winner here. They want to know they can get the product before they visit a store or if their current store is out of stock, which other store has the product and can easily get it to them.

Price. This one is always going to be a challenge as only certain retailers can own this space and trying to compete on price can be a race to the bottom and out of business.

Delivery. This is one that retailers have to get right. Offering varying delivery/pick up options that work for the customer is critical, so it suits their busy lifestyle.

Experience. There's a big battle being played out here, with retailers going to great lengths to provide unique experiences.

Embracing technology has to be on every retailer's agenda here.

Service. One of my favourites of course. Offering a consistently high level of service in store is a key differentiator, yet so many retailers still don't get this right.

Location. Physical stores have to be where the customers are and have the right number of staff to serve the customers. We are seeing a number of large format retailers reducing their footprint to be more competitive in this area
There are numerous options available for retailers to differentiate, they just need to pick one or two and own that space before their competitor does. The price of doing nothing and standing for nothing is way too high
One area where retailers have been slow is adopting personal hand-held devices for sales assistants. Only a few retailers have invested in this technology yet all the research points to this as being extremely helpful to sales assistants to be able to instantly check on stock, pricing and product information while they interact with customers. Customers also found this technology very helpful in getting answers instantly, without having to wait.
There is no end in sight for technology innovations, retailers have to quickly climb on board or run the very real risk of being left well behind.
---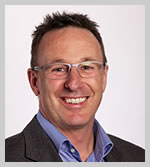 Roger Simpson – CEO, The Retail Solution and Author of "The Ultimate Retail Sales Experience" With over 35 years' industry experience, Roger Simpson is recognized as Australia's #1 Authority on customer ROI in the retail industry and as a global expert on staff coaching, customer service, and selling skills.