Attention CEO's, Customer Service Executives and Business Owners
"82% of customers have stopped doing business with a company
due to a poor customer experience."
– RightNow Research
Breakfast Seminar focussing on Improving your Service & Increasing your Sales
Almost every day we are shocked by another retailer closing stores or closing its doors altogether. Competition is at an all time high and will get tougher.
For a two hour time investment, which includes a free breakfast, I'll show you how you can improve your customer service and increase your sales across all of your stores.
I'll show you how your managers can get all of their staff to perform.

Valued at $995
This is a FREE EVENT for the first 25 to register!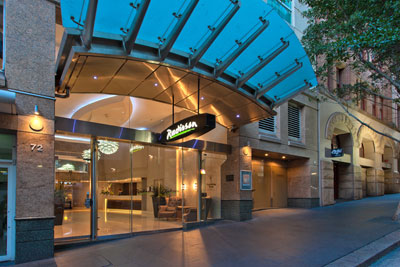 Thursday 15th of October 2015 at
Radisson Hotel & Suites Sydney
72 Liverpool Street
Sydney NSW 2000
7:15am until 9:00am
We have great pleasure inviting you to this special event where you will learn the secrets to improving your companies service and sales and how you can massively increase your KPI's through your frontline team.
We'll also take care of breakfast for you, so you can head off to work with a full stomach and great ideas to help improve your business.
Valued at $995 – This is a FREE EVENT for the first 25 to register!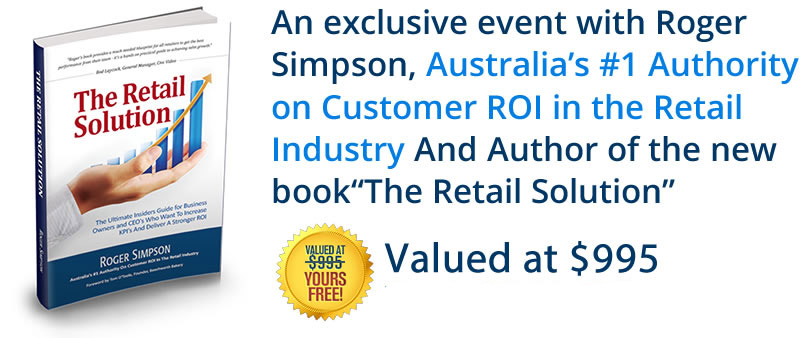 <!– events block goes here – refer to email subject roger-events-page-insert –!>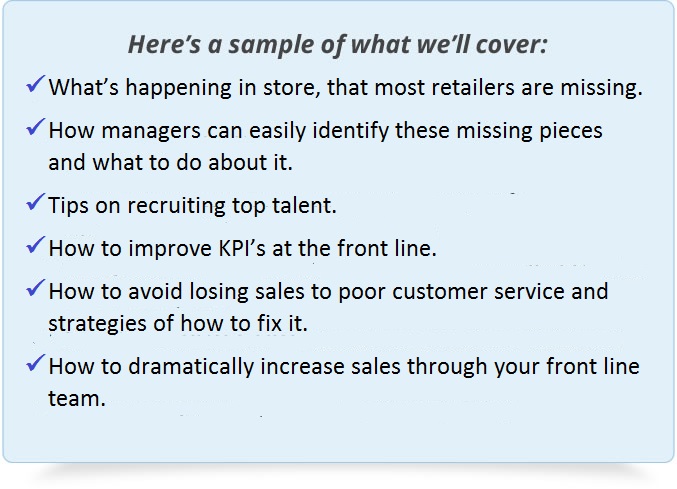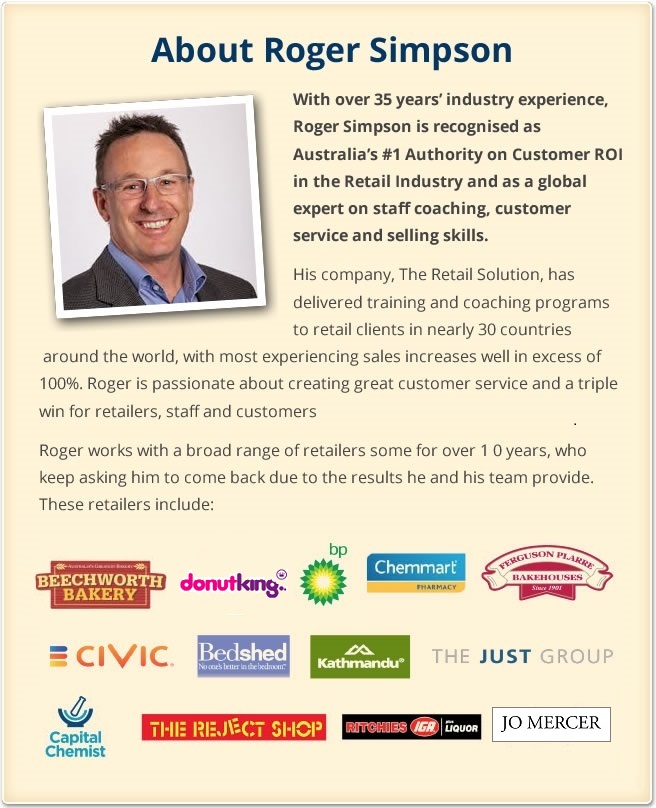 Would you like to grow more sales?
Would you like your teams fully engaged and motivated?
Do you want your customers to spend more in store and return more often?
If you have answered yes to any of these questions and you want to know how – then this session is for you.
As I'm sure you are very aware, the current state of retail is challenging with most businesses finding traffic counts are down, or at best static and most customers spending less per visit. Competition is at all time high (and will continue to get tougher) and a number of customers are moving to online. Against this backdrop, it is challenging to recruit and retain the best talent. Research is even telling us that customer service levels are at an all time low, nearly 60% of consumers believe that customer service has declined over the past 5 years. Furthermore over half of these consumers didn't purchase as a result of poor customer service.
I believe retail service can be turned around and sales can grow providing a business has their focus in the right place.
We can help your company to combat these issues, and we'll show you how during this interactive and informative event.
Here's what some of The Retail Solutions clients say…

"Roger has worked with us over the past 4 years and his passion for customer service and giving sales teams a clear pathway for success comes through clearly."
Gavin Culmsee Chief Operating Officer Bedshed Franchising

"Roger has worked with the Beechworth Bakery since 2000 and he's passionate about coaching and training exceptional customer service and getting the best out of people.
I class Roger as our 'customer service guru' for both our retail staff and our management team. He has proved to be an outstanding asset to our company and helped us to create Australia's Greatest Bakery."
Marty Matassoni, Managing Director, Beechworth Bakery

"Today's retail world is extremely challenging however Roger's business principles are extremely valuable and proven to work in any retail environment"
Sean Kirschenberg CEO, Global Sports International

"Roger's training and coaching provides a much needed blueprint for all retailers to get the best performance from their teams – he's hands on and provides practical ideas to achieving sales growth."
Rod Laycock General Manager, Civic Video
Feedback from attendees at our recent training courses …
"Roger is great, I have been to a few of his courses. He is a great trainer, love his courses"
Penny, Canberra
"Always entertaining, never boring – knows his stuff"
Glenda, Canberra
"Dynamic, used varied training techniques to teach and demonstrate"
Samantha, Canberra
"All positive and fun! I was interested in what they are teaching. Able to grab the attention of the group and maintain interest"
Stacy, Canberra
"Very interactive, fun to listen to"
Gary, Perth
"Roger was very good, engaging and fun"
Donna, Perth
"Very good communicator, easy to understand and practical"
Ben, Brisbane
"Roger is an excellent trainer. I have done many courses with him over the years and found them all beneficial"
Janeen, Brisbane
"Roger is an excellent trainer, can't wait until our next training"
Dayna, Brisbane
"Great, positive and energetic. Had real life examples, plus knowledge of our industry and brand"
Michael, Brisbane
"Engaged well with our group and presented a well paced and interactive program"
Patty, Brisbane
'Great knowledge, also provided excellent real life examples. Enjoyed the practise sessions and I now know how my feedback conversations with my staff should be like."
Hetal, Brisbane
"Informative and engaging. Provided plenty of opportunity for discussion, practise and questions"
Priscilla, Sydney
"Wonderful, engaging, informative, open to ideas. Explained things well"
Jo, Sydney
"Motivating, enthusiastic and knowledgeable on the subject we discussed"
Dyan, Melbourne
"Well presented, clearly explained topics. Kept things moving with the right balance"
Michael, Melbourne