Profit-Generating Book Every Business Owner, CEO and Customer Service Executive Needs To Dramatically Increase Service Levels and Drive Sales In These Challenging Times.
Introduction to The Retail Solution: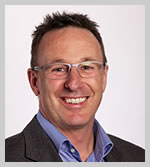 I have worked in retail for more than 35 years, and like all of us, I'm also a customer. I'm continually disappointed by the experiences I have with retail businesses and their staff. There are the exceptions, of course; those great examples of customer service I can't wait to share with my friends and family. However, most often, the experience is average at best, and in many cases, downright infuriating. How many times recently have you walked into a retailer and thought, "Wow"?
We all know the experience. There's a vibe, staff are smiling, customers are smiling, there's a sense of urgency without a sense of rush, it feels real. Many cafes have it. I walk in, the barista says hello using my name, he knows my order and chats with me while he's making it, and I walk out feeling acknowledged and valued. The good news is that while online sales are growing rapidly, I believe we can combat the customer's move to online shopping with just a little effort. Retailers can fight back and buck the trend if they focus on the right areas.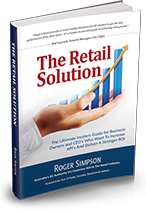 If you'd like to receive a hard copy of the Retail Solution for only
$24.95
(Plus P&H)
, please fill in the details below so we can post it to you. We'll be in contact in regard to payment. 
For a free copy of the book in PDF format please visit:  www.theretailsolution.com.au/ebook

"Roger has worked with the Beechworth Bakery since 2000 and his passion for coaching and training exceptional customer service and getting the best out of people comes through clearly in this book. I class Roger as our 'customer service guru' for both our retail staff and our management team. He has proved to be an outstanding asset to our company and helped us to create Australia's Greatest Bakery."
Marty Matassoni, Managing Director, Beechworth Bakery

"The Retail Solution is an excellent book. It explains precisely what is happening and outlines exactly what you need to do to not only survive but thrive in these changing times. If you don't want to be another statistic, please read this book."
Dale Beaumont, Author of 16 Best-Selling Books

"In the sea of sameness, Roger rises above the rest. He is hands down, the smartest and most results-oriented customer service thought-leader I have ever met. He has an in-depth understanding of the truth about how to really get the most results from front-line staff. He is world-class and if there is one man who can single-handedly turn around the fortunes of the retail industry, it's Roger."
Ari Galper, CEO, Unlock The Game

"Roger has worked with us over the past 5 years and his passion for customer service and getting the best out of people comes through clearly in this book. Today's retail world is very challenging, however Roger's business principles are extremely valuable and proven to work in any retail environment."
Gavin Culmsee, Chief Operating Officer Bedshed Franchising

"Roger has worked with us over the past 4 years and his passion for customer service and giving sales teams a clear pathway for success comes through clearly in this book."
Sean Kirschenberg, CEO, Global Sports International

"Roger's book provides a much needed blueprint for all retailers to get the best performance from their teams – it's a hands on practical guide to achieving sales growth."
Rod Laycock General Manager, Civic Video

"The simple and practical steps in this book will help any retailer who wants to improve their customer service and increase their sales."
David Ginsberg Managing Director, Retail Growth Concepts

If you'd like to receive a hard copy of The Retail Solution, please fill in your details below: